During the winter holidays, Izola is going to become an ice island of unforgettable winter adventures with no end in sight. The icy kingdom promises a brand new ice-skating rink, plenty of music, theatre plays, dancing, and fun. For a cherry on top, there will be delicious food by our restaurateurs. 
Let's chase away the cold together
This year, the old and angry witch named Winter chose to cast a spell on Izola and has turned it into an ice island because she was bored. She rumbled loudly: "From now on, only anger, boredom and cold should rule in Izola", to which she added: "The only thing that can save the townspeople are fairy-tale creatures and children by having fun all winter and warding off the forces of the spell."
Upon hearing the news, the fairy-tale creatures immediately gathered at a meeting to prepare the most fun and magical winter events we can remember. The witch can only dream of succeeding. At the meeting, the creatures agreed to use their forces of good to turn on the lights that will adorn the town until the last day of winter joy, with which they will finally cast away the old witch's spell.
Winter will thus wrap Izola in a magical coat and turn it into an ice island (#LedeniOtok) of fun. On 30 November, fairy-tale heroes are going to cover the streets, parks, and alleys in a brilliant splendour, which will embellish the town until we overcome the magic with joined forces.
Ice skating with fisherman Bepi
Fisherman Bepi from Izola is already excited. Every day he carefully polishes his skates on which he will slide into the magical world of winter stories, music, dance, and other unforgettable winter adventures. He heard that Santa Claus is coming to lend a helping hand as well. His little helpers are preparing the new rink right now. Each day, Santa sends out thousands and thousands of invitations to all the children of this world, inviting them to join him and all the fairy-tale creatures on skates, bringing joy and fun to the town.
From 30 November until 19 January, the Ice Island (#LedeniOtok) invites you to enter the kingdom of winter stories, music, dancing, good food, ice skating and children's fun that will take over the glistening Pietro Coppo Park.
 What's in store for us?
The elves have published the complete calendar of events on their website. Lea Sirk and fairy-tale heroes, Andreja Zupančič, Žiga Rustja, choir Lilith, Duo Pingo, children's, youth and adult choirs and others will take children on a journey into the world of music. We will dance, sing and have fun with Vesele rokice (Happy Hands) – the real fairy-tale heroes.
Children will enter the world of winter stories. There will be many plays and film screenings: A Goat Trial in Višnja Gora (Kozlovska sodba v Višnji Gori), The Lady Winter and her Helpers, Under the Festive Umbrella, The Magician and the Talking Radio, Charivari, Winter Joy, Winter is Fantastic, Little School of Circus, An Icy Fairytale. The old witch has nothing on a real magician, who is also going to visit the town.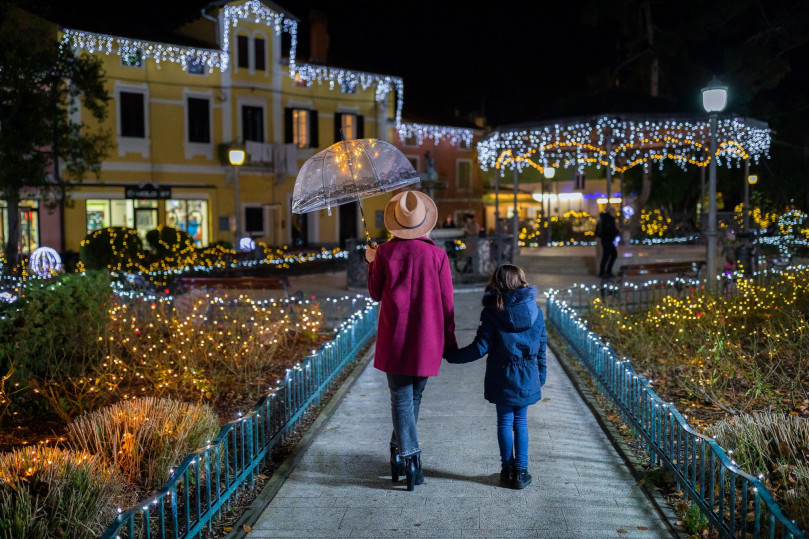 But fun isn't only for children! Adults will be able to dance, enjoying the upbeat winter rhythms at the Lonka square, with music by Kompanija Izolana, Lisjaki, Vlado Kreslin, Čuki, Ne me jugat, Tempera band, Primorski fantje, and others.
The fairy-tale creatures and Bepi are excited to have fun together and overcome winter boredom once and for all.
Special thanks to CPK d.d., - the general sponsor of Ice Island.