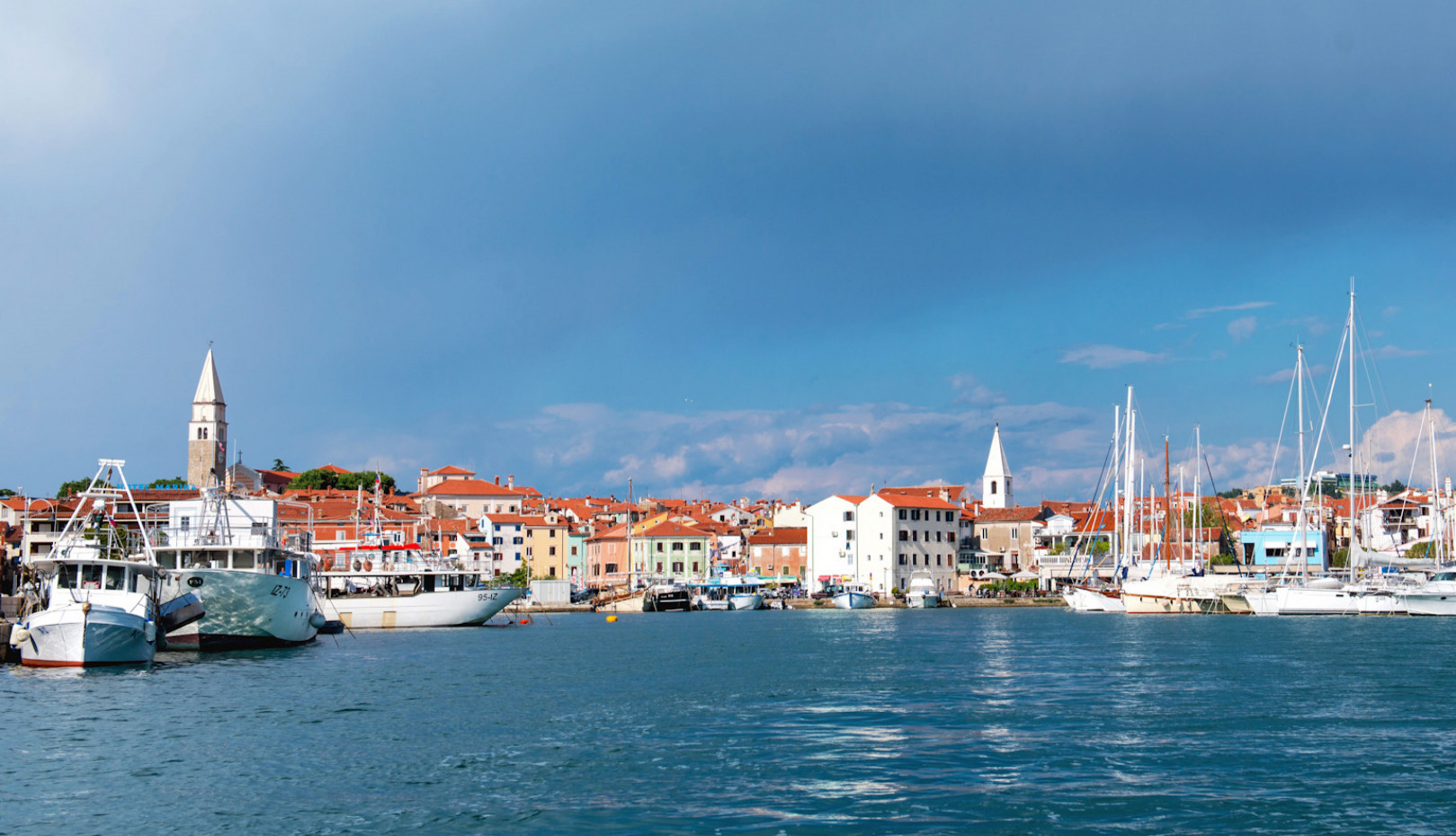 Izola
Slovenia, the very first country to be declared a Green Destination, lies in the heart of Europe, where the Alps, the Mediterranean, the Karst and the Pannonian Plain meet. In one of these worlds, the Mediterranean seaside, there is the lush green land of Istria. A land that enchants with its exceptional combination of attractions from the Roman, Medieval and Venetian era, set against a backdrop of stunning natural landscapes – from the green hillsides to the clear blue sea of the Adriatic coast.
And there, in the middle of the 46-kilometer coast, lies a small seaside town with a rich history, marked by fishing and waves.
There is the unique cliff in Strunjan, the highest elevation on the Adriatic coast, reaching 80 meters above the sea level. The Škocjanski zatok Nature Reserve is a safe haven for many animal and plant species, and especially birds, since there are as many as 245 different species on less than 122 hectares of land. Nearly just as many birds found their home in the salt pans of Sečovlje, where the Adriatic sea-salt is still harvested the old fashioned way. The three coastal towns, Izola, Piran and Koper, attract visitors with their medieval appearance.
And there, in the middle of the 46-kilometre coast, lies a small seaside town with a rich history, marked by fishing and waves. Izola was once an island in the Adriatic Sea and is still uniquely bound to the sea and the fishing traditions. The town is characterized by various beaches, orange wine, water sports and traditional events celebrating the gifts from the surrounding lands. Come to Izola for an authentic experience of the Mediterranean!
THE LEGEND OF THE WHITE DOVE

In 1380 the Genoese fleet sailed towards Izola convinced of their chance to prevail over the
Venetians and dominate the maritime trade in the Mediterranean. Saint Maurus, the patron saint of
the town, sent a white dove to fly over the Genoese fleet that could not see the shore due to a
miraculous fog, with witch St. Maurus hid the town. The Genoans followed the dove, knowing that
doves never fly far from the coast. Yet this dove took them to the open sea and returned to the
church. There it dropped an olive branch from the beak as a sign of peace and security.
A dove with an olive branch is now represented on the town's coat of arms. To this day we celebrate
this historic event every October. The celebrations are accompanied by cultural and sporting events.