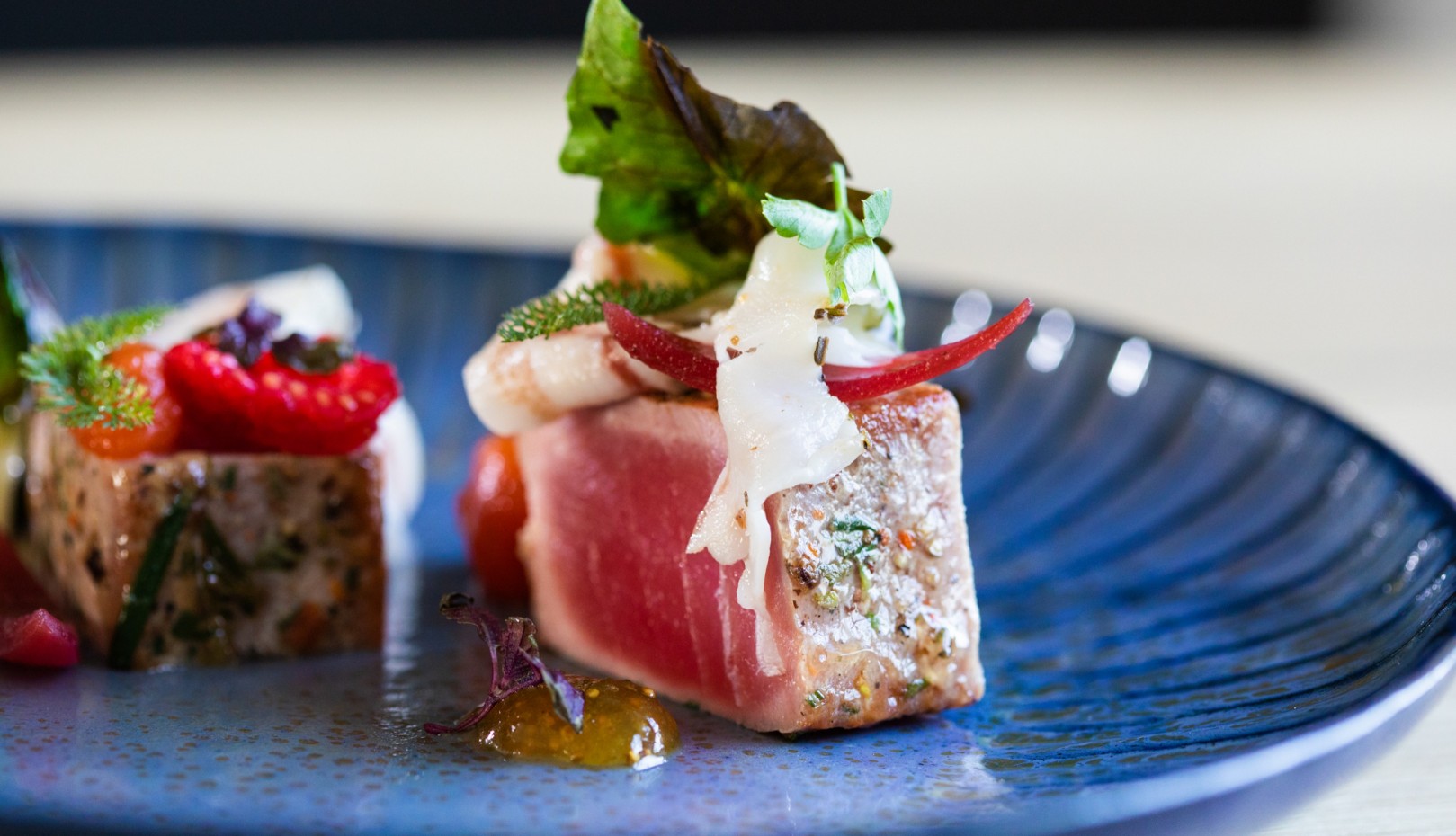 Take a culinary trip to Stara Šola Korte
In the little village of Korte, located in the heart of Slovenian Istria, a new restaurant Kužina Stara šola opened in the Stara Šola Korte accommodation. The design of the whole complex, which also offers cyclist-friendly accommodation among other services, was the idea of Jasmin Kogoj, who describes himself as a child of Slovenian Istria. He is no stranger to working with guests, and one may even say that they have been his life-long companions, since his parents have been working in tourism all their lives. When the idea of opening a restaurant was born, famous Slovenian chef Marko Gorela joined the team, who also comes from a family that is closely connected with the tourism industry. In conversation with them both, we reveal the philosophy of Izola's new culinary acquisition.
Both Jasmin and Marko are the heart and soul of the Kužina Stara šola restaurant and deserve a huge amount of credit for the fact that the restaurant has already earned a lot of interest in such a short time since opening.
Before the opening of the kužina, there were two restaurants in Korte. Did you still recognise the need for an addition to the culinary scene in this small Izola village?
Jasmin: At Stara šola Korte, we began creating the idea of a restaurant because we felt the need or saw the demand. Hence, we slowly developed the idea and adjusted it to our location. We decided to put the focus on locally produced food and, consequently, the culinary story that "fits" into our Istrian region. We work with some Italian food and wine suppliers, but mostly the suppliers come from Slovenia and, of course, from Croatia.
Do you feel that the Stara šola Korte has been well received?
Jasmin: Our concept of the whole tourist and catering offer is based on an individual approach to the guest and brings something new. In fact, it is unique in the area of Slovenian Istria. Here, construction in the countryside is very limited, and the implementation of big projects is very rare. We were fortunate that the facility with the accommodation area was already arranged so that we only upgraded it with the restaurant facility. Now, we are also constructing an outdoor pool, and we also have a few ideas on how to additionally improve the area.
Could you tell us more about the culinary offer of your restaurant?
Jasmin: We stick to the individual approach to the guest even in culinary. The executive chef Marko Gorela dedicates himself to every guest and suggests what they might like to order, according to his/her preferences, of course. At the moment, there are only seven tables at the restaurant, so Marko has the opportunity to talk with each guest and give him/her enough attention. Of course, we also offer a menu for those who do not give themselves up to us, but most of our guests come to us with this intention exactly: to let himself/herself "be taken" on this culinary journey. Every day, we offer or we recommend a new ingredient, and all the ingredients are always seasonal.
So people adapt to you and allow you to take them to this culinary journey?
Jasmin: Yes, we are happy that this is the case most of the time, and we are delighted to add that Slovenians, as well as foreigners from neighbouring countries, are real gourmets who like to try out something new. The guests love to be guided by us because they see that we act as a
whole and that we are extremely professional.
How would you describe your typical guest?
Jasmin: At the moment, our guests are mostly visitors from the surrounding area, that is, namely locals, but we also have quite a few guests from abroad. This will surely change in the future since we opened our doors only recently.
You can not afford to make mistakes in catering because people remember. If you create a story, you must feel it from the beginning, and then the guests are going to feel it with you.
What is the main ingredient for success in tourism and catering in your opinion?
Jasmin: People, no doubt. In the first place, the team must get along very well and have a common goal.
How do you make recipes for your dishes?
Marko: In fact, we want to bring guests back to their childhood. We ate many dishes from our menu when we were children. The only difference is that we are preparing them today at a slightly higher level. We offer you plum dumplings that our nonnas once prepared for us. We abide by domestic and authentic flavours and ingredients that we all know. Ingredients are crucial. Fifteen or twenty years ago, people in the catering industry were aware of the importance of high-quality ingredients. I feel that this got lost somehow in this interim period, as often money was the only thing that counted: how to earn as much as possible. I think that today people are going back to nature, to more high-quality and natural ingredients.
Marko, how did you find yourself in the whole story?
Marko: I was brought here by people, as well as Jasmin, who convinced me with the
presentation of the initial idea. Jasmin and I see things very similarly: we feel very strongly that have to give something back to where we are coming from. I can say that our friendship is based on this since chemistry is of extreme importance in tourism too.
Jasmin: Marko understands the modern catering industry very well: today guests indulge in craft beer, gin, etc. For example, if you are talking to older caterers, they often offer only one type of whiskey, one kind of rum, and that is it. With us, the waitress will mix a cocktail, if the guest would like one. And this is precisely our specialty. It is also a great rarity that food and drink are always in front of the guests. We have an oven where we roast meat in the middle of the room, we have alcoholic drinks that we offer, so we do not need special menus with beverages.
Izola Brand Our Way
INGREDIENTS

Tuna fillet
320g tuna fillet filon
rosemary
thyme
unground Piran salt
coarse ground pepper
olive oil
Marinated Shallots
10 shallots
20g raspberries
100g beetroot juice
25g wine vinegar
2g juniper berries
15g brown sugar
1 clove roast garlic
thyme
Olive Oil Foam with Lemon
30g olive oil
30g olive oil with lemon
100g water (warm)
2g Gelespessa thickener
2 dessert spoons persimmon vinegar
1 poached egg
Tomato Coulis
200 g peeled tomatoes
1 spoon sugar
salt and pepper to taste
3g agar-agar
Fig Mustard
350 g figs
6 spoons brown sugar
2 spoons wine vinegar
2 spoons mustard powder
1/2 spoon mustard seeds
3 spoons water
1 spoon lemon juice
salt and pepper to taste
PREPARATION
Tuna fillet
Shape the tuna fillet into the desired form, season and cook briefly on both sides over a high heat. Let it cool. Cut it as you like and then serve.
Marinated Shallots
Peel the shallots and put them into a vacuum bag. Add the rest of ingredients and vacuum seal the bag. Boil for 1 hour at 85°C. Glaze the shallots with other ingredients from the bag before serving.
Olive Oil Foam with Lemon
Mix all the ingredients with a hand blender. Pass the mixture through a fine strainer. Pour into a cream whipper and add two bulbs of CO 2 .
Tomato Coulis
Mix peeled tomatoes and season to taste. Add the agar-agar and bring to boil over low heat. Pour to a low tray. Let it cool. Mix with a hand blender.
Fig Mustard
Cut the figs into quarters and chop in a blender. Mix sugar and vinegar in a pan and cook until sugar dissolves. Add the chopped figs and cook another 10 minutes on low heat. Meanwhile, mix the remaining ingredients in a little bowl and slowly add to the figs. Cook for another 10 minutes. Fill jars and set aside. You can also use fig mustard as a cheese dip. 
At the end … add a thin slice of dewlap (20g) or lardons or pancetta. To further improve the taste, you can also add raspberries and rose hip vinegar.