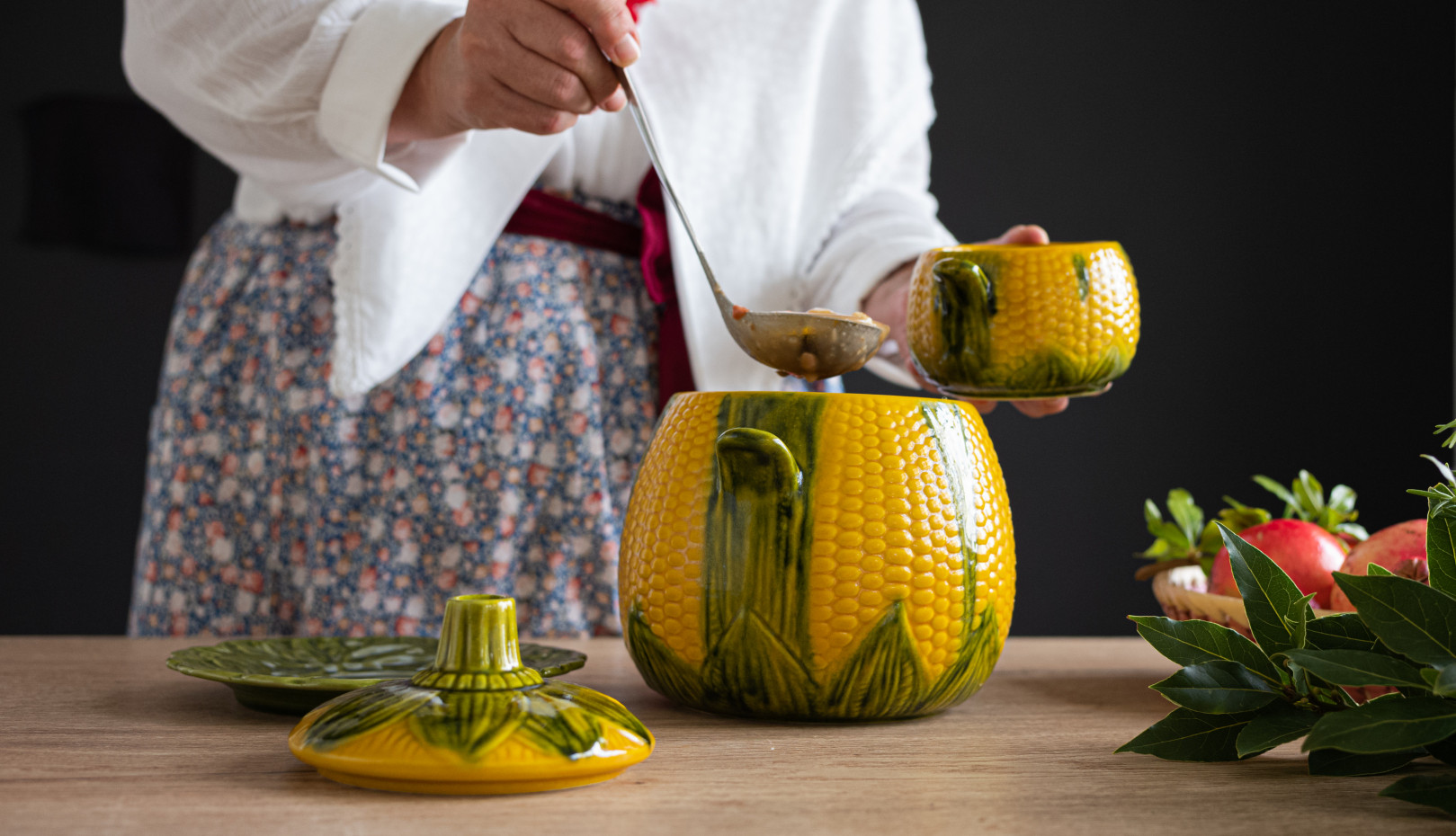 The secrets of making authentic »Bobiči«
Bobiči (a type of corn minestrone) is a typical Istrian dish, best prepared by our mothers and grandmothers who learned the Istrian recipes from their mothers and grandmothers. This way, the culinary tradition was passed down from generation to generation. Jasna Cokan and Nevija Šalkovič, two local women from the hinterland of Izola and members of the Cultural Society Malija, revealed to us their secrets of making authentic traditional Istrian Bobiči. There are quite a few differences between corn minestrone and Istrian Bobiči. Read the following post to avoid confusion and recognize the real Bobiči.
The secret ingredient of Istrian Bobiči
»The secret ingredient of Bobiči is actually corn, but not just any corn, « Nevija confides. Bobiči is named Bobiči because the minestrone is made from milk-corn – this means that the corn is picked from the cob at the right time of the year, when it's soft«, she continues. During the preparation, the corn must be cut and after the cob must be scraped to remove the milk. "Milk is key", says Nevija, who believes that Bobiči can't be made without this ingredient. The milk thickens the stew and gives it the right taste.
"Well, there is no Bobiči without a pig stepping into the pot," our interlocutor says with a smile. This means that meat is another key part of the Istrian dish. It is therefore necessary to add either a prosciutto bone (this is supposedly the best!) or a piece of pancetta to the minestrone. An indispensable ingredient are also fresh pork sausages or parts of pork skin. "You can't go wrong with pigs, everything can be used, everything goes in the pot," she says. Nevija confides that in the old days, when there was not much pork available, the villagers passed a prosciutto bone from house to house. The pig owner cooked first, and then the (used) bone travelled from neighbour to neighbour. "Even my father and my aunt experienced this first-hand. Today we find it hard to believe, but it really wasn't very long ago," Nevija recalls the stories.
The members of Malija Cultural Society reveal another secret ingredient of Bobiči, which is young cranberry beans. These are beans, picked ight before they pass from young to dry beans. In this time, the beans have different colours; from red to green and even orange-yellow. "This happens between July and August, the same goes for corn, so Bobiči are relly a summer dish, even though we are used to eating it in autumn and winter," Jasna tells, and adds that it's also recommended to use young potatoes for Bobiči.
Did you know that back in the days Bobiči were rarely served? They contain ingredients with which people fed animals, especially pigs. It was believed that if a man ate, there wasn't enough food for animals. So first, it was necessary to feed the animals, only then did people indulge in the ingredients. They were used with respect, or »con riguardo«, as they say in the Istrian countryside. There was a real feast in the village houses when Bobiči were made!
Days of Bobiči in Izola in October
Autumn in Istria is going to be even tastier than usual. Local chefs will come together again in a culinary campaign and include dishes with locally-sourced ingredients in their menus. This time it's going to be all about the most popular Istrian minestrone called Bobiči. In October Izola will be filled with the pleasant aroma of the Istrian minestrone, during the Days of Bobiči. This culinary campaign is next in the series of culinary campaigns, following the successful Days of Local Mussels and Days of Cod, all of these being part of the Kilometre Zero initiative, emphasizing the importance of locally cultivated food.
Join us between 8 and 24 October and enjoy the flavor of Bobiči!
RECIPE FOR ISTRIAN BOBIČI
Ingredients for 4 litres of minestrone:
4 corncobs
0,5 kg of young beans
1 onion
2 tomatoes
1 carrot
6 medium-sized young potatoes
Lard with garlic, greasy part of pancetta and parsley
Pasta (optional)
Salt, pepper
Bay leaf
PREPARATION:
Fry sliced onion and finely chopped pancetta in olive oil (you can use lard instead of pancetta). Add finely chopped carrot. Add beans, sliced young potatoes (you can also add whole potatoes and mash them at the end), and corn. Add meat and water. Put in some salt and pepper. Add the bay leaf. Let it cook for half an hour, then add the tomatoes. Cook for 3 hours. Finally, add pasta if desired.
Serve with homemade bread.
About the Cultural Society Malija
The members of Cultural Society Malija are active in various fields but they mostly take care of preserving traditions and old customs. They are extremely skilful, organizing courses in ceramics, recycling, they make glass mosaics, rag dolls, they even renovate old chairs, and they have also sewn traditional Istrian costumes, which they often like to wear.
Did you know what typical Istrian costumes look like? They were worn around 1925, their colours represent the sea and salt. They are also adorned with a red carnation, a symbol of people's heartiness.
They also take care of the folk tradition by organizing two events. The first (in April) is Otava, a "sagra" (party) intended exclusively for villagers and their relatives. On this day, everyone from the village brings something (one brings something salty, one deserts, one drinks, another an accordion, a third props) and so they celebrate the Otava holiday, which traditionally takes place the 8th day after Easter. It is a kind of a picnic for all the villagers, which is extremely popular and attended by more and more neighbours every year. Another, slightly larger feast is Our Lady of Mount Carmel, taking place in August of every year. Our Lady of Mount Carmel is a patroness of church and of the village of Malija, and everyone is welcome to the party. On this day it's possible to taste the treats prepared by the members of the Association. They make various liquors themselves, among which you can also find a liquor "anti-influenza" – a real medicine against viruses that attack us in the cold months. They specialize in making marmalades and typical Istrian desserts such as "kroštole", "potica", and other pastries.