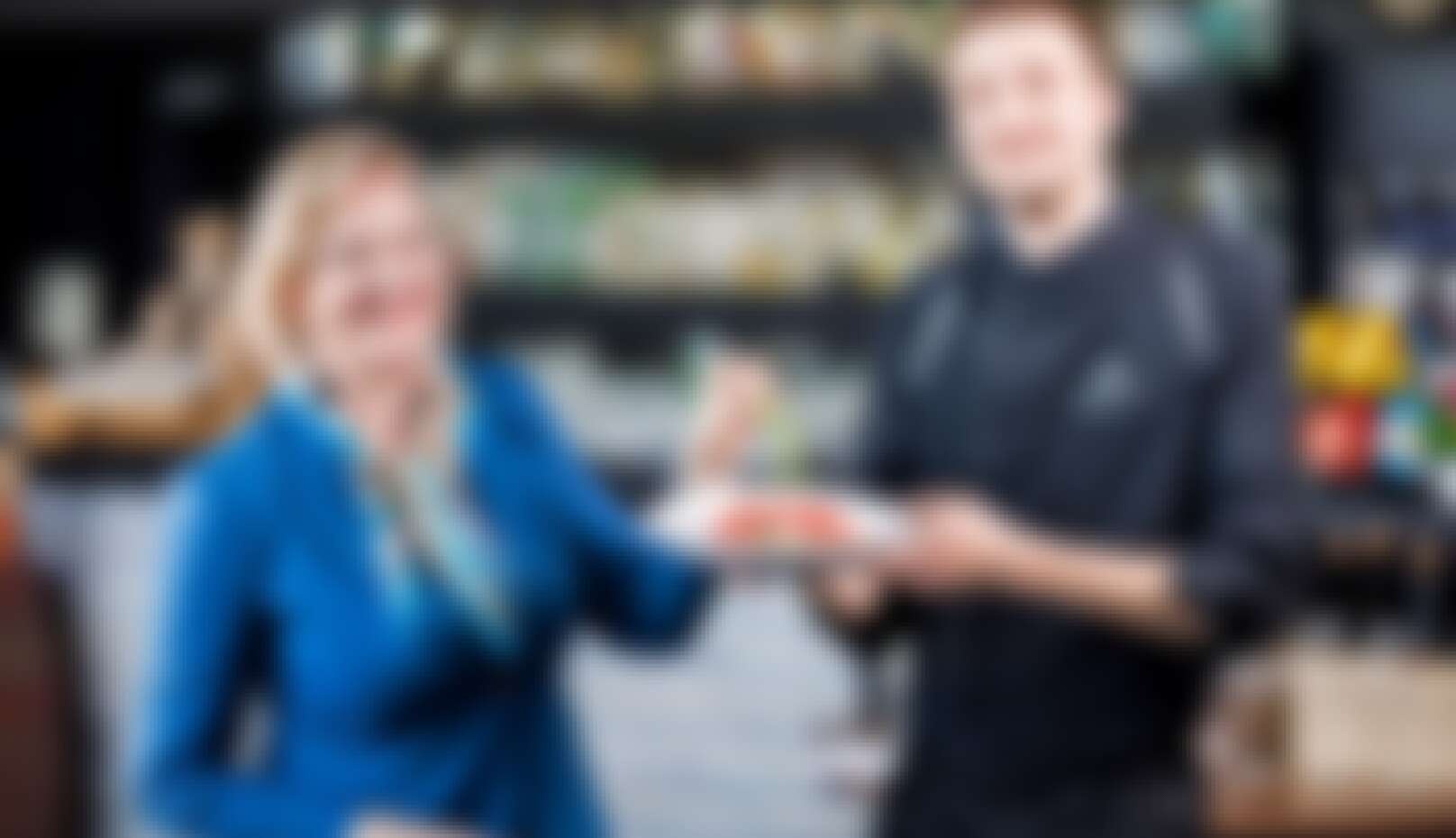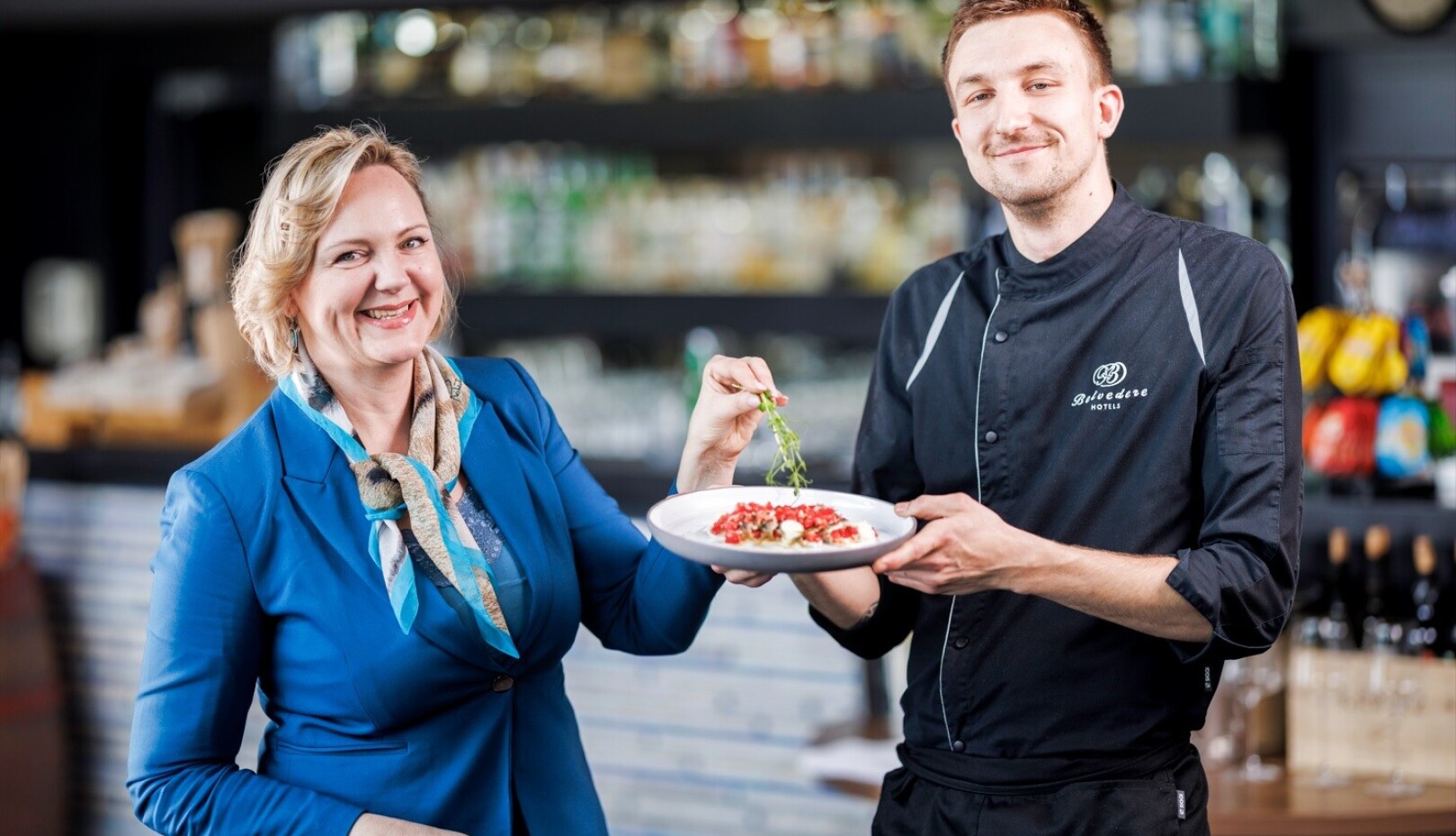 Kamin: the restaurant with the most beautiful view of Izola
A restaurant that Izola has been proud of for over half a century and which was visited, among many, by the famous Josip Broz – Tito, boasts one of the most beautiful views of Izola. Along with the view, it is also known for its excellent à la carte Istrian culinary offer, based on homemade olive oil and a unique wine list. We spoke to the managing director Lea Sevšek Buterin about the gastronomic delights of restaurant Kamin, part of the Belvedere Resorts company.
The Kamin restaurant has a long tradition, but its culinary offer has changed over the years. When did the most significant shift happen? How did you plan it?
The restaurant has been operating for many years. It became known already in the 80's, when prestigious and wealthy guests from the entire area of ex-Yugoslavia dined here.  One of the many guests was also Josip Broz – Tito. The restaurant and the terrace used to be smaller at the time, but the amazing view was always there to impress. Our challenge about six years ago was: how to give more value to this view through the culinary offer. We realized that fried calamari, which our restaurant was known for, were not enough anymore – with all due respect to fried calamari. (laughs) It was time to take a step forward. When we built our 4-star boutique hotel Cliff in 2017, we increased the capacity of the restaurant and the terrace. We also changed most of the staff in the kitchen and the service.  The new team laid the foundation for the culinary story that we still continue today.  
Last year you were left without some of the staff, which probably came as a big shock for you. How did you deal with the situation?
That's true: That's true: we had the same staff for 5 years, and 13 people leaving at once was a tough pill to swallow. But my stubbornness told me to "never give up", which helped. I decided not to close the restaurant but to do everything we could to keep working. I was ready to work in the kitchen. I can cut some carrots, can't I? (laughs) Well, luck was on our side and almost by chance, we quickly made plans to work with our new chef Igor Delak. He helped us establish our new team. In approximately two months, we managed to bring our gastronomy back on its feet. I'm happy we managed to do that in such a short amount of time. We've been creating together for the past year and a half. Not long ago, we received a compliment from one of our regular guests, who said the food was never as good as it is now. These kinds of compliments warm your heart.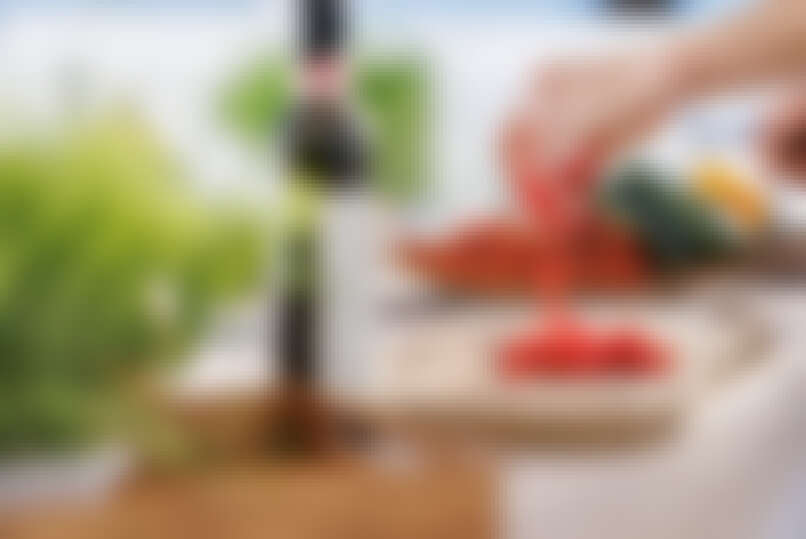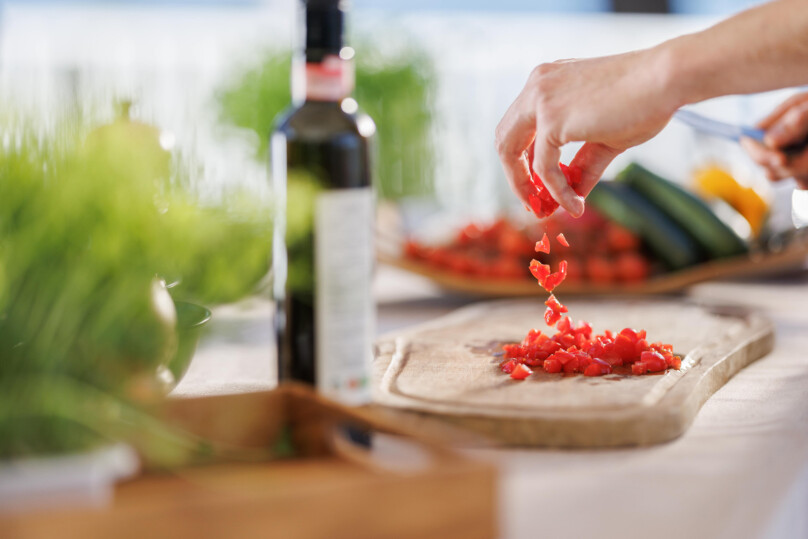 What's the basic principle behind your dishes? Have you been following it since 2017?
The Kamin restaurant offers Istrian cuisine with a modern twist, focusing on our homemade olive oil. We prepare seafood and meat dishes with a touch of Istrian flavours. That was our goal years ago and our fil rouge stays the same. Of course, the menu has changed, and so have some of the flavours.  Each chef follows their own inspiration and creativity. 
The restaurant is part of the Belvedere Resort and is practically adjoining the Cliff Hotel, but Kamin isn't your typical hotel restaurant, right?
The restaurant experienced a major transformation with the construction of Hotel Cliff. The hotel only has 18 rooms, which means 38 guests at full occupancy. But the hotel guests want a high-quality service. In fact, they expect it. I would say 80 % of them visits us for the cuisine, which is the main reason of their visit. It's imperative to attend to these guests because they want something more. In addition to the buffet option, we delight them in the morning with an à la carte breakfast, which is more local, more Istrian: from the salami to the eggs, which we prepare in a thousand different ways. It's important to offer local products. However, Kamin is an à la carte restaurant, where both hotel and other guests are welcome. 
What would you say is the ratio of hotel guests to non-hotel guests? Who are the restaurant's regulars? 
As part of our half-board offer, the restaurant also serves dinner for guests of our 3-star villas. These dinners are held separately from the à la carte restaurant. There can be up to 150 of these kinds of dinners per day. During peak season, we somewhat regulate that to ensure that others can enjoy the terrace and the culinary offer as well.
I would say about 30 % of guests in the restaurant come from the hotel. We also recommend other restaurants to our guests because it's right for them to experience other culinary offers too. We recommend the Restaurant of Hotel Marina, Restaurant Sonja, and we also advise them to go to Korte or Strunjan. 
We also have our regular clientele - mainly visitors from the central and other parts of Slovenia. Some of these guests have holiday homes in the Slovenian and Croatian Istria. They regularly come on weekends and keep returning over and over again. However, we also get a lot of local visitors.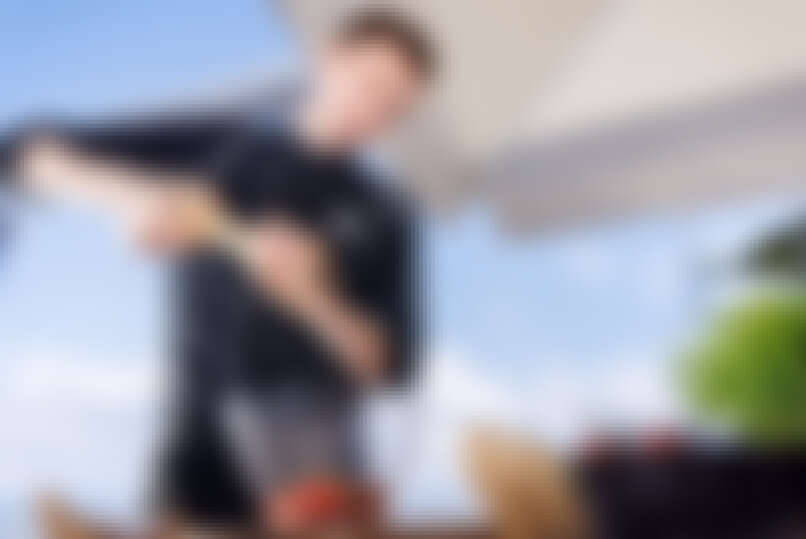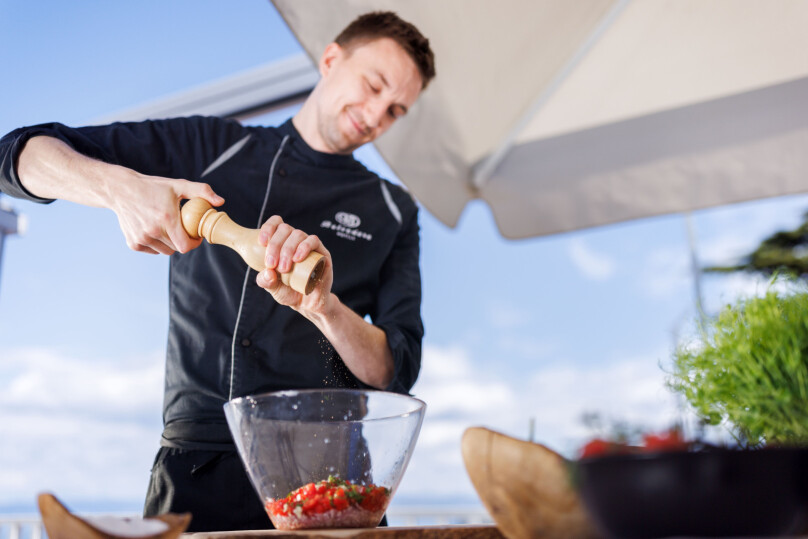 How is the collaboration between the restaurants? You said you frequently recommend other restaurants to your guests: do you notice that other restaurants in the city centre and in the hinterland do that as well?
It's very important for the restaurants to cooperate. Keeping our guests in the same restaurant for 5 consecutive days is pointless. We prefer showing them the variety of what our places have to offer. That's the only way they will happily return. I think that restaurants in Izola collaborate well with each other and the Tourist Board of Izola. We are well informed among each other. Especially those in close contact with visitors must be well informed and know how to present our products and services. I'm referring to receptionists and service staff in particular.
"Compared to neighbouring destinations, I can say that there is a lot of cooperation between providers in Izola."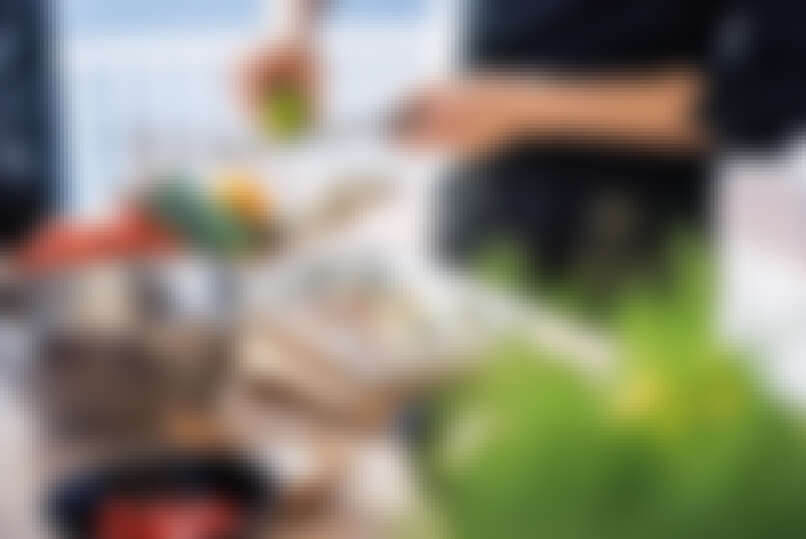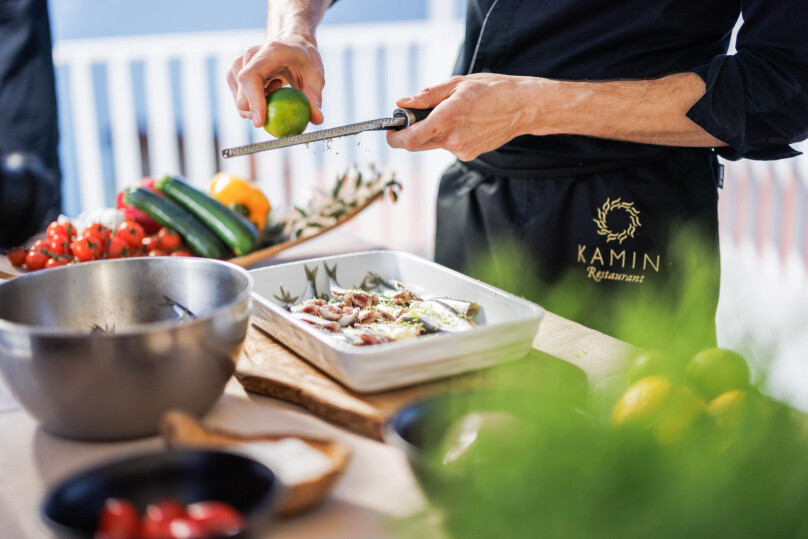 Kamin restaurant is included in the Gault & Millau guide. Since you are very locally and sustainably oriented, is the Slovenia Green Couisine label also in the cards?
Yes, that's the plan for next year. Hotel Cliff and the SPA already have the Green Key symbol, meaning the restaurant fulfils the preconditions. We just have to apply. (laughs) This is in the agenda for next year. We renewed the Gault & Millau symbol last year, so we are in the third year of this journey, which we are undoubtedly proud of.
You take part in the majority of the culinary days organized by the Tourism Board of Izola. You'll also be preparing the queen sardine. Which recipe will you use? Are sardines always on your menu? 
Of course, we are from Izola after all! (laughs) We won't reveal the exact menu for the Days of Sardine the Queen just yet. However, we can say, we will be preparing a special dish: grilled sardines in tomato sauce, pine nuts cream and basil pesto.
Check out Igor Delak's recipe and prepare the queen sardine at home.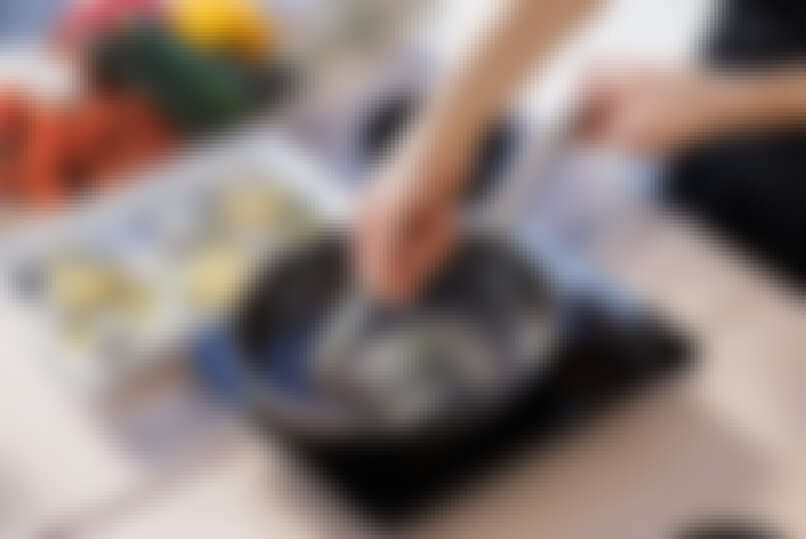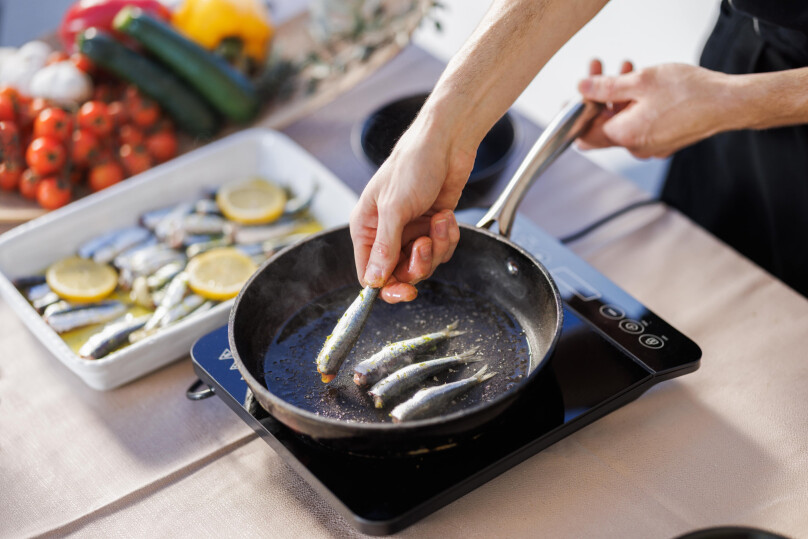 Besides serving food, the current trend in restaurants is also event organization. Will you follow this path in the future and organize, for example, wine evenings?
We started doing that last year. At the end of autumn, we organized a similar event – Friday afterwork party with music guests and in collaboration with Klenart wines. The event coincided with the end of olive picking and making new olive oil, so we combined the event with promoting our olive oil. It's worth organizing these types of events during the low season. Maybe we'll do it again this autumn.
You're becoming increasingly popular as a wedding venue. How has this year's wedding season been so far? Are the weddings still in progress?
We've had many weddings here in the last few years. We start in April and host weddings almost every weekend until the end of September. During the summer, we take a few weekends off to fully dedicate ourselves to the restaurant's guests. The weddings we host are quite big, there are usually around 120 people. Belvedere is a truly beautiful venue for this magical day: our offer and the astonishing view convince couples to get married here. The civil wedding ceremonies are held right where one of Izola's viewpoints is located.
Do you already know all the viewpoints in Izola? These are our most beautiful vantage points, and they're just beckoning to be visited. Discover them!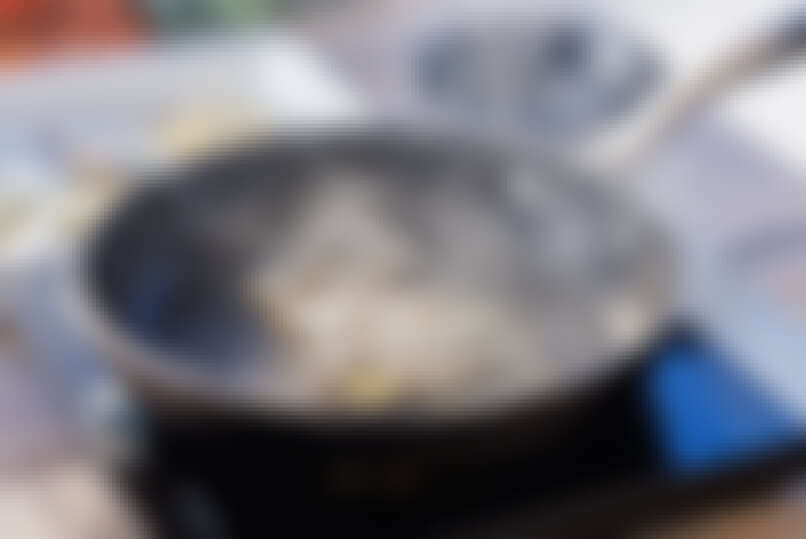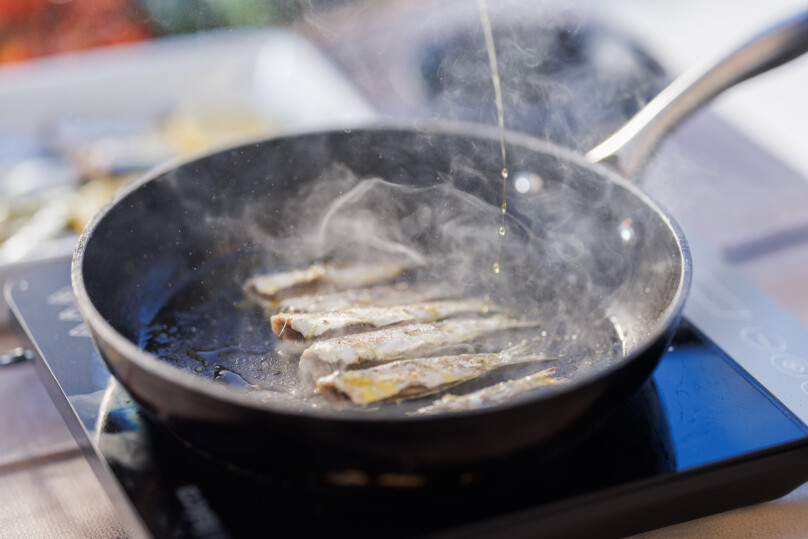 What are the plans for Belvedere Resort and consequently for the Kamin restaurant? What's in store? 
It would make sense to expand the whole concept of Belvedere. On 65.000 m2, there is still enough space to build another hotel like Cliff. The campsite is also very important, especially since it is even more sustainability-oriented. I think a great opportunity would be glamping, which is still relatively underdeveloped in Slovenian Istria. We could be the first ones to offer this kind of accommodation, with not only a view over the sea but also located in a landscape park. That would make an excellent sustainable story! Well... these are our wishes, which the owners must agree with first. However, our priority right now is upgrading the existing infrastructure: we have to renovate the rooms in our annex buildings as we are a little behind the others on this front. 
What do you think makes Kamin restaurant different from the other restaurants in Izola? Except for its view – we already know that's extraordinary. (laughs)
The entire Belvedere Resort complex is unique because it is nestled in the Strunjan landscape park, in pristine nature, which is a great asset – we practically breathe in harmony with nature. Another advantage is our olive grove with one thousand and three hundred Istrian olives, which our guests can admire from the terrace. We also have a large selection of wines. We offer over 200 wines – including premium and sparkling wines, whose price reaches 7.000,00€. I believe we are one of the few restaurants with such diverse selection of wines. We also create our story around our wine list, which, of course, includes local wines, featuring almost all wine producers from Istria, many wines from Brda, and 1-2 wines from practically every Slovenian region. We also have Italian, French, and Croatian wines.
At Belvedere, you can also rent e-bikes and a picnic basket, which allows you to taste their typical Istrian delights immersed in nature.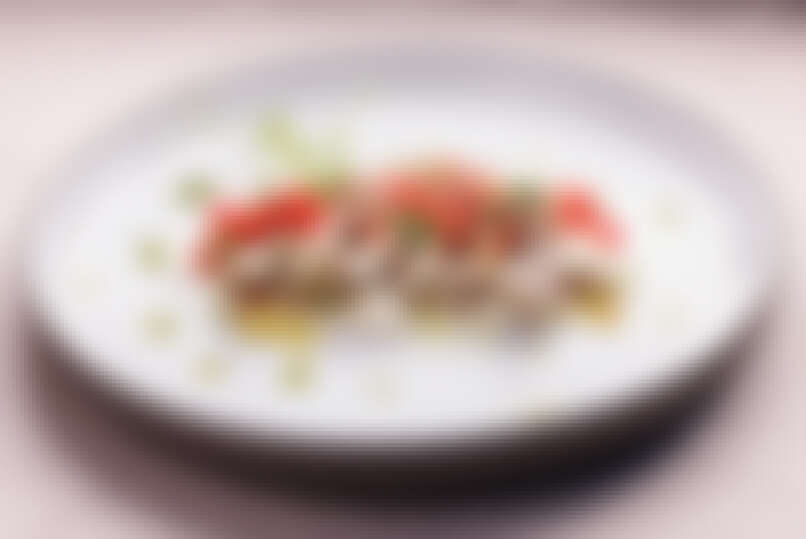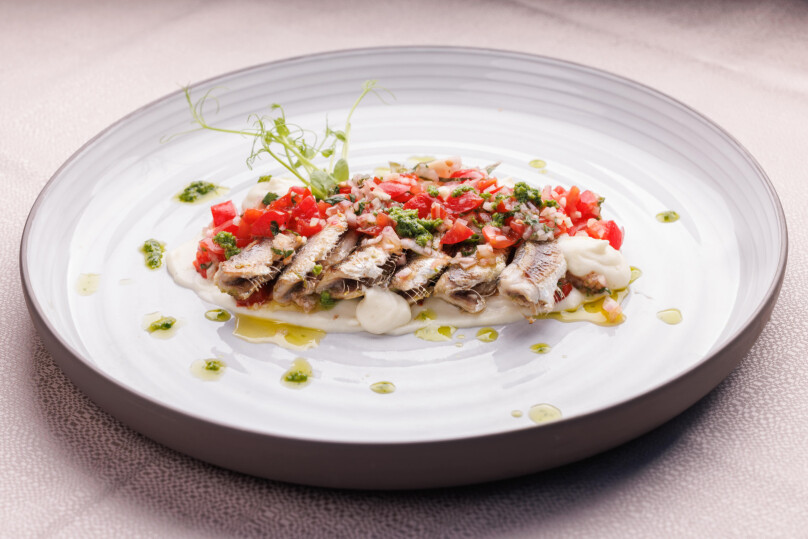 It's not a bad environment to work in, is it? (laughs) How do you feel at Belvedere, and how long have we been co-creating the hospitality and tourism offer in Izola?
I celebrated my 5th anniversary in April. At the same time last year, I got promoted to company managing director. Before that, I was the hotel director. So now I'm a jack of all trades (laughs). I wanted to challenge myself, although it's not easy: there's a lot of responsibility, and something always needs to be done, but I feel good. I've worked in tourism for the past 24 years, and this has become part of my life. In the morning, I don't tell myself: "I'm going to work", but I go because it is a part of me. That makes everything easier.
I really enjoy working with people, especially with my staff. I try to make them happy, and to make them feel a sense of belonging. Only happy employees can share the positivity with the guests.
You have plenty of work experience in tourism. You worked in the wellness sector for quite a few years. What about the hospitality industry – is this your first experience of that kind? 
Not really. When I was in secondary school, my dad had a lodge, and I used to help him on weekends. My husband also had a restaurant, so I've been involved in the restaurant business for quite some time now, though not on the same level as Kamin restaurant. 
What brought you to Istria? Your love for tourism? You weren't born in this area, right?
That's right. I'm from Dragomer pri Brezovici. What brought me here was the wellness story I started creating for Portorož tourism in 1999. Before that, I had studied in Thailand. After 18 years in this sector, I received a new opportunity from Mr. Branko Seljak. I saw it as a challenge and decided to accept it. I can say that the transition wasn't that difficult, since I already knew how hotel business works.
How do you perceive Izola? Do you now feel like a local here?
If I'm honest, I never felt like a local in Portorož, although I worked there for almost 20 years. But I've felt like that in Izola from the very first moment! The energy here is completely different. I remember, at the beginning, I used to take photos of the view from the terrace every day and send it to my friends enthusiastically. (laughs) That's how excited I was (and still am) about this small coastal town.
We are almost at the end of our conversation. It went by fast. (laughs) Where do you take your friends when they come to visit Izola? What are the top 3 things to see or experience? 
I like historical landmarks, that is why I would recommend these first. For example, I always recommend Izolana, especially to those with children. Another suggestion is taking the tourist train: to be sustainable, not burden traffic, but also to explore the area. You cannot visit Izola and skip its gastronomy … I love it myself, so restaurants are always on my list of recommendations. 
I would also suggest walking by the seaside and visiting the beaches. My two favourites are the one under Belvedere and the Bele Skale beach. The latter manages to enchant every nature lover.
Follow Lea's advice and visit the museum in Izola as soon as possible. If you haven't been to Izolana – house of the Sea before, this is the right moment!