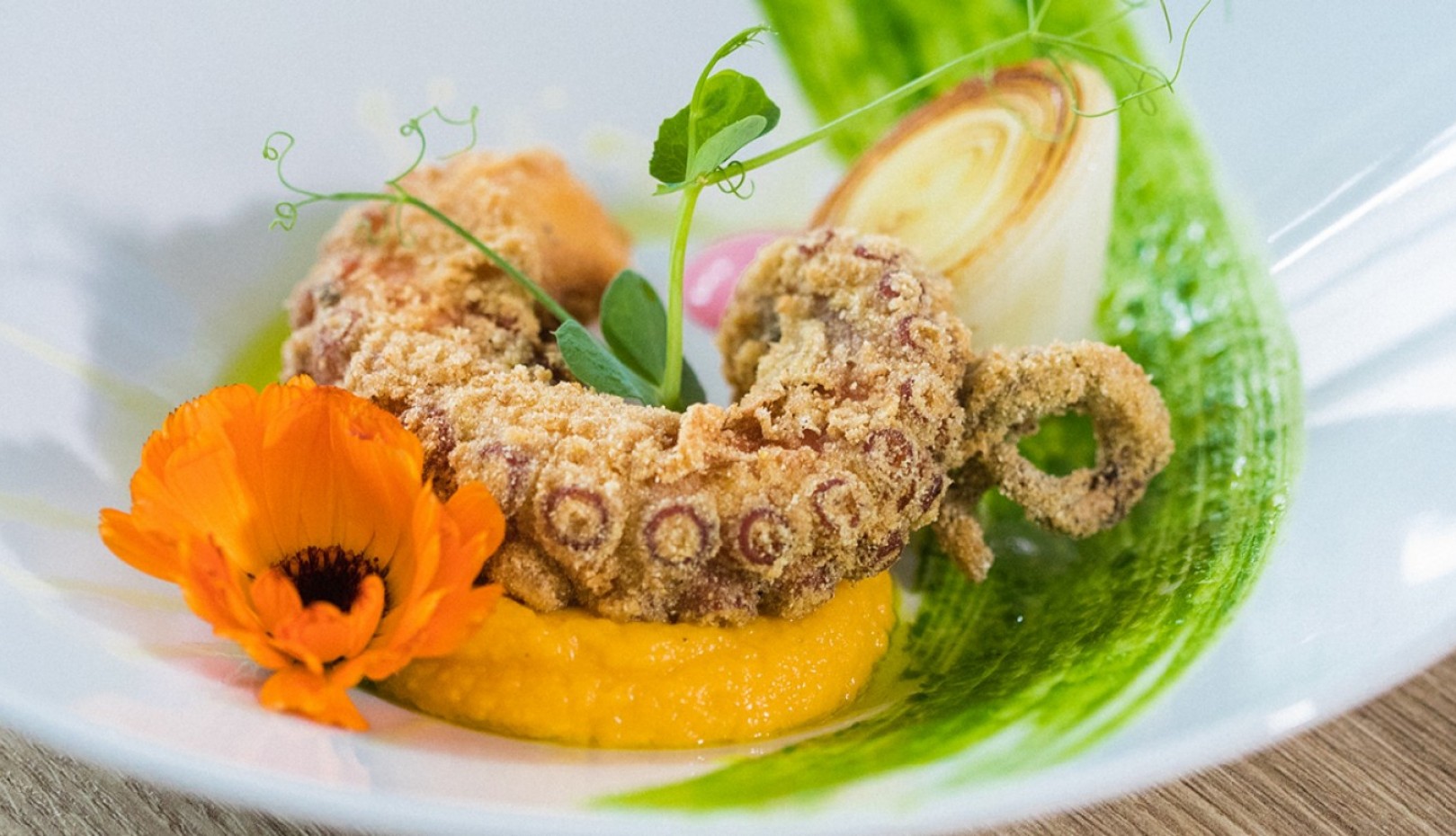 Seafood delicacies with a touch of spicy
On the corner of the Veliki trg square, by the fishing harbour, you will find the Marina Hotel. Its important added value lies in the top-grade restaurant, boasting a longstanding tradition. The hosts, master chef Ivica Evačić-Ivek and his staff, rely only on the best and freshest locally grown ingredients.  Their motto is "from the sea to the plate" – all seafood is fresh and caught that same day. They can point to the harbour or the neighbouring hills and show you exactly who provided the fish or where the olive oil and the wine came from. The silver thread of the restaurant is respect for food and the unique flavours of Istrian and Mediterranean classic dishes are enough to entice even the most demanding guests.
I grew up around good food.
Peter Lukič has been a cook in the Restaurant of Hotel Marina since last August. He got his love for cooking from his stepfather who was an amateur chef. Peter is self-taught and has been actively cooking for the past 7 years. He likes to spend his free time with his family and their dog, and he also likes cycling. Even lunch at home never lacks good food and new ideas; he often prepares specialties with his partner who is a pastry chef.
Every day I fall asleep thinking about new recipes.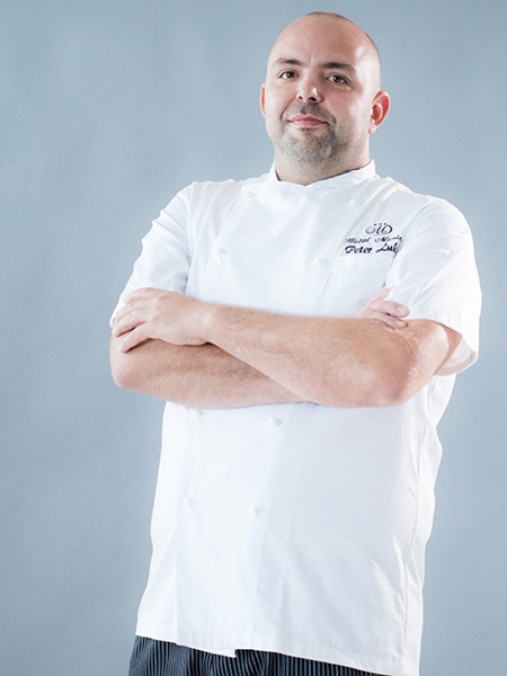 1. WHEN IT COMES TO SPICES AND CONDIMENTS I LIKE TO USE BASIL AND CHILLI.
2. I AM PASSIONATE ABOUT ISTRIAN CUISINE BECAUSE OF DIVERSE FLAVOURS.
3. I CAN'T PREPARE FOOD WITHOUT TWEEZERS.
4. I AM THE HAPPIEST WHEN I RECEIVE A COMPLIMENT FROM A GUEST.
5. VISIT US BECAUSE WE WILL NEVER DISAPPOINT YOU.
Homemade chilli oil gives the chilli sauce a special flavour.
Fried octopus in olive oil on pumpkin puree
INGREDIENTS
(for 4 persons)
Octopus
1,2 kg of raw octopus
olive oil
cornflour
salt
Pumpkin puree
4 big potatoes (1 potato per person)
200 g of muscat pumpkin
salt
pepper
a slice of butter
olive oil
Chilli mayonnaise
1 yolk
1 dl of vegetable oil
chilli powder
0,5 l of beetroot juice
mustard
lemon
salt
pepper
Sautéed leek
1 leek
olive oil
salt
pepper
PREPARATION

Octopus
Cook the octopus for one hour, cool it under cold water and cut it into pieces of any size. Dust the pieces with cornflour and fry them in olive oil. Blot the excess grease with a paper towel, then season the octopus with salt.
Pumpkin puree
Peel the potatoes and the pumpkin and cook them in salted boiling water. Drain off and mash them (or mix with a hand-held mixer). Melt the butter in a saucepan, add the potato and pumpkin mixture, and a pinch of salt and pepper. Use a whisk to mix in a few drops of olive oil.
Chilli mayonnaise
Place the yolk in a high sided dish and mix it using an electric mixer at the lowest speed. While mixing, add 1 tablespoon of mustard, juice of 1/2 of a lemon and slowly pour in vegetable oil. When the mixture is appropriately thick, add chilli powder and beetroot juice. Season with salt and pepper if needed.
Sautéed leek
Cut the leek into rings and sauté gently in a frying pan with olive oil. Add some salt and pepper and serve on the plate as decoration.